4.65
on
June 27, 2013
at
12:00 am
Hello everyone,
Enjoy a bonus update! I can't thank everyone who has been donating so far enough. You guys are amazing.
Repeat of yesterday's news post:
Hello everyone,
Some of you may already know that I have been struggling with respiratory health issues since A-Kon. It's gotten a little ridiculous, as I had to take two weeks off work after the show, and am now being told to take an additional ten days as the first round of medication did not work, and the bacterial infection is getting rather serious in my upper and lower throat, as well as my lungs.  To say the least I won't be taking all that time off to heal- because I simply can't afford it.
As it currently stands, the money I normally use to pay for the server monthly has gone towards medication. So I'm putting up a donation incentive between now and the 6th of July. Anyone who makes a donation of $1 or more during that time to help cover the server cost will receive a wallpaper pack based on "The end" and "It ends with Fire" posters. If you are interested, you can donate by clicking this link. //amyachronicles.com/donate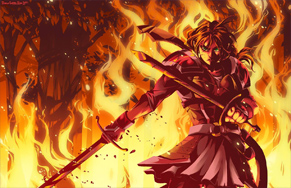 Anyhow, have a great week guys!
Best wishes,
Savannah