5.46
on
February 25, 2015
at
12:40 am
Hello everyone!
Enjoy the update!

Ongoing news:
Though my health has still not improved greatly, I have ended my medical leave and returned to work this week; I can't afford to take any longer off (Especially now that Andrew is without work! The life drama never ends!).
In light of this, I have been able to reevaluate and lower the milestone goals on our Patreon. Two weekly updates is even more achievable now!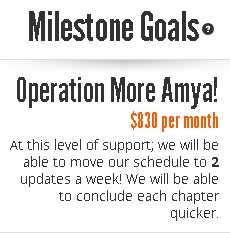 If you want to help us reach this goal, make sure you check out our
Patreon page
!
Enjoy the update, and keep being amazing!
Best wishes,
Savannah