5.57
on
May 6, 2015
at
12:00 am
Hello everyone,
Andrew and I will be at TCAF this weekend in Toronto. Please stop by if you are in the area. Here is a helpful map to help you find us, and other webcomics too! You can click on the map for the full sized version.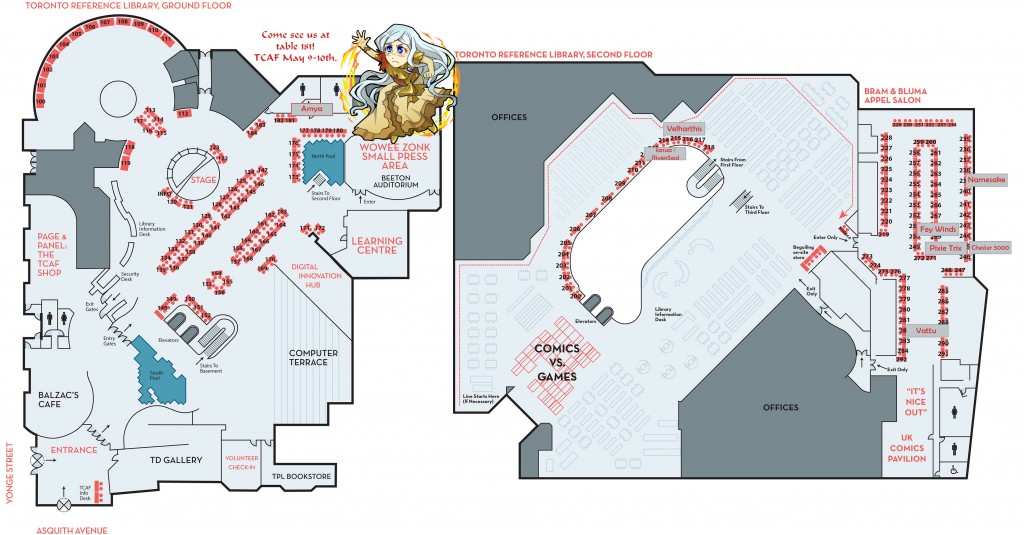 Just a reminder about our call to action! We are $8 in pledges away from a bonus update!
Details:
I was a bit surprised this month when I went to renew my medication, and found my prescription had been doubled, which will be a reoccurring cost. Due to my son's various medical expenses, my budget is already pretty tight, and the only place I can really draw from is the money from my salary that would typically go towards Amya production costs. My hope is to raise the Patreon by an additional $187.50 to offset the difference, so that production of Chapter five and six does not have to slow down.
As an incentive to help, for every $40 we receive in pledges, an additional page will be posted, up to four additional pages. Every $1 helps if you can spare it– but if you can't, I completely understand. You already show us a great deal of support simply by reading and commenting!
Thank you guys for being amazing as always!
Best wishes,
Savannah